Carefully crafted from the finest locally-sourced grain and ingredients, our spirits are sure to spark your Pennsylvania pride.  Our traditional double-pass distillation method with reverse osmosis water purification system produces spirits that are crisp, clean and silky smooth for sippin'.  Come raise a glass with us and taste the spirit of courage, care, and dedication to our community that we pour into every bottle.
Currently all spirits are available to be purchased in the distillery.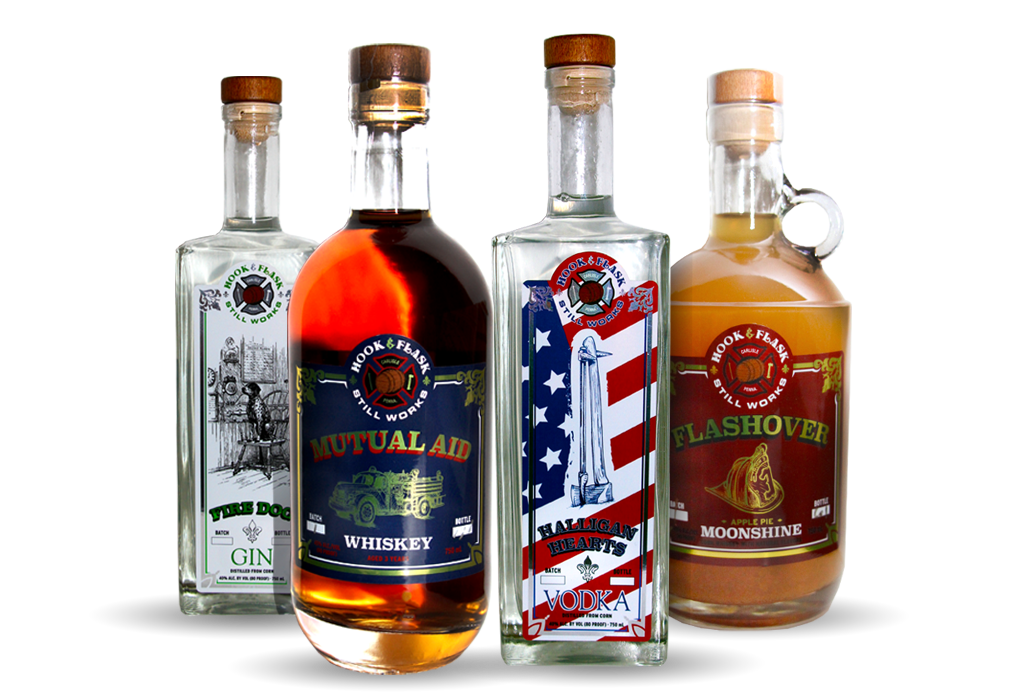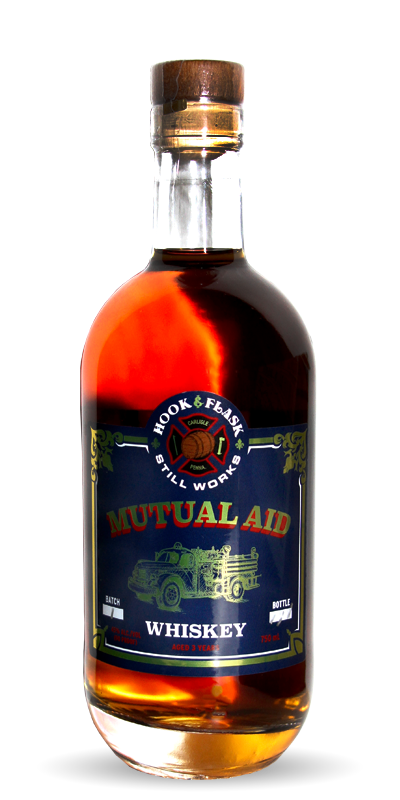 Mutual Aid refers to the support a neighboring fire company provides to local emergency service calls.  This concept rings true in our distillery by using an American Whiskey from Virginia that is finished and bottled under our roof.  The Corn Mash bill of this spirit is perfect to taste straight or on the rocks.
Mark's Mutual Aid Whiskey Craft Cocktail Recommendation:  The Old Timer – Our new spin on a classic Old-Fashioned that is rooted in tradition and skill.
PRICE:  $39.99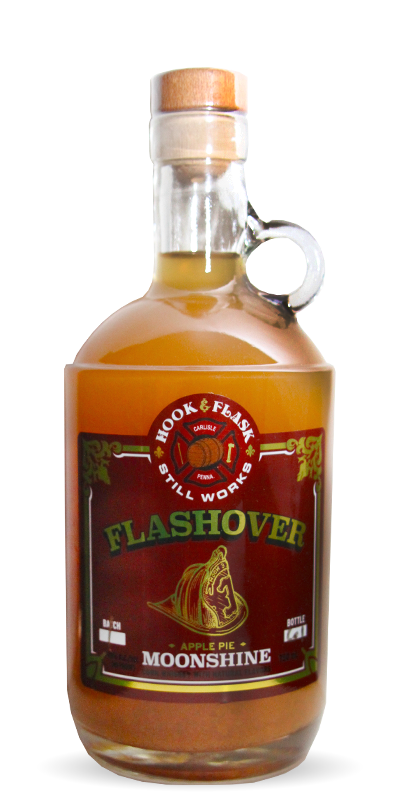 In the emergency services field, a flashover describes an explosion of fire.  Our apple pie moonshine ignites a blast of flavor that will keep you sippin' and shinin'.  This spirit boasts a blend of homemade cider from Big Hill Ciderworks in Adams County, Pa. with our unaged corn whiskey, which features grain from family-owned, Carlisle-based Sunday's Mill.  Enjoy this crowd favorite straight or on the rocks.
Devin's Flashover Moonshine Craft Cocktail Recommendation:  Ben Franklin's Apple – Named after the Founding Father who started the first fire company in 1736 in Philadelphia, Pennsylvania – The Union Fire Company also known as "The Bucket Brigade".  This craft cocktail is mixed with cranberry juice and garnished with a cinnamon stick.
PRICE:  $21.99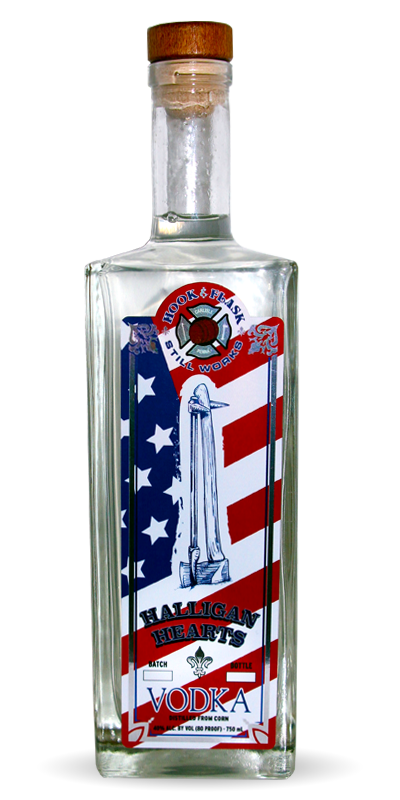 The name Halligan Hearts nods to the multi-use traditional fire services tool, halligan, paired with the products from the sweet spot of the distillation process where the "good stuff", or hearts, are made.  Featuring hand-milled grain from family-owned, Carlisle-native Sunday's Mill, this vodka goes through a 20-plate distillation in our towering 19-foot vodka column. The end result is a silky smooth spirit that proves to be the trustworthy companion to any of your favorite mixers.
Maddie's Halligan Hearts Vodka Craft Cocktail Recommendation:  The Backup Line – This fire services term refers to the fire department that is second in line to backup the original crew on an emergency call.  This cocktail is a consistent go-to on the menu that will always be there to back you up for happy hour.
PRICE:  $24.99
FIREDOG GIN. RYE WHISKEY. BOURBON.
Check back to see the status on when these spirits are ready for release!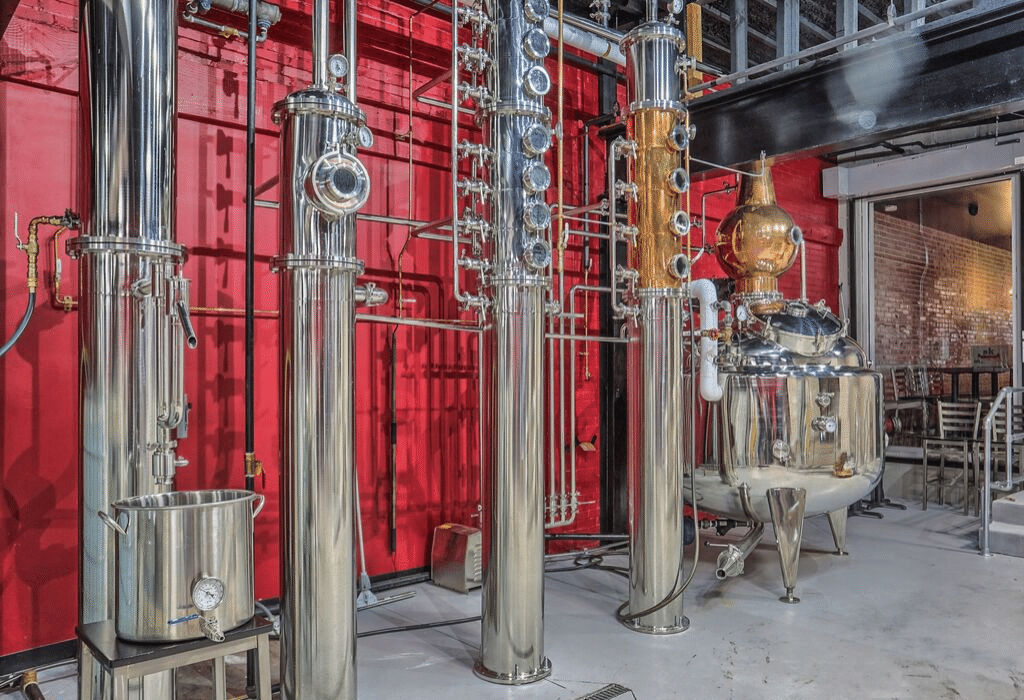 TRUCKIE HATS. HOODIES. TONS OF TEES.
From our Soft Two-Tone Grey Hoodies to our special edition Rehab Time Tees, there is plenty of fun swag at The Hook!  Come and visit our Hook & Flask Swag Section by the bar to get yourself decked out in Hook & Flask gear. Our hot merch is currently only available to be purchased in the distillery.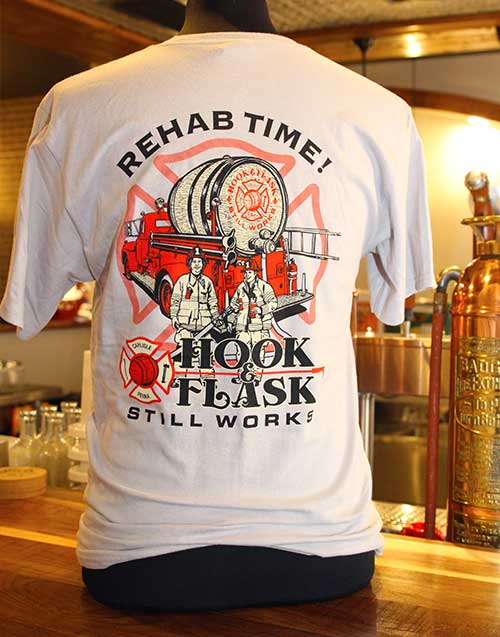 Hook & Flask Rehab Time T-Shirt
Price:  $20.00
Sizes:  S-XXXL
Hook & Flask Traditional Grey T-Shirt
Price:  $15.00
Sizes:  S-XXXL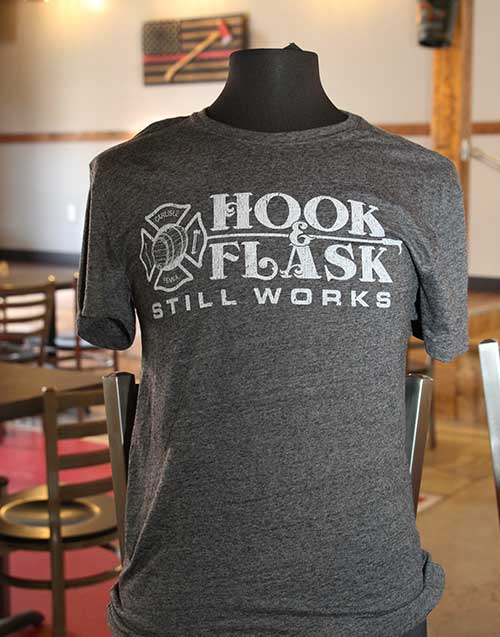 Hook & Flask Charcoal Soft T-Shirt
Price:  $18.00
Sizes:  S-XXXL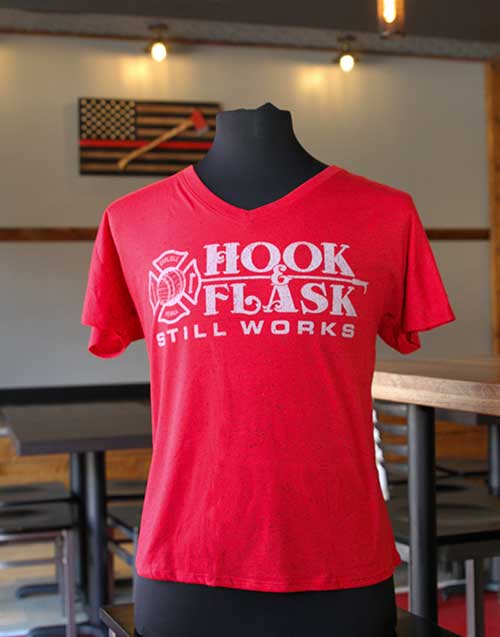 Hook & Flask Women's Soft T-Shirt
Price:  $18.00
Sizes:  S-XXL
Colors:  Grey and Red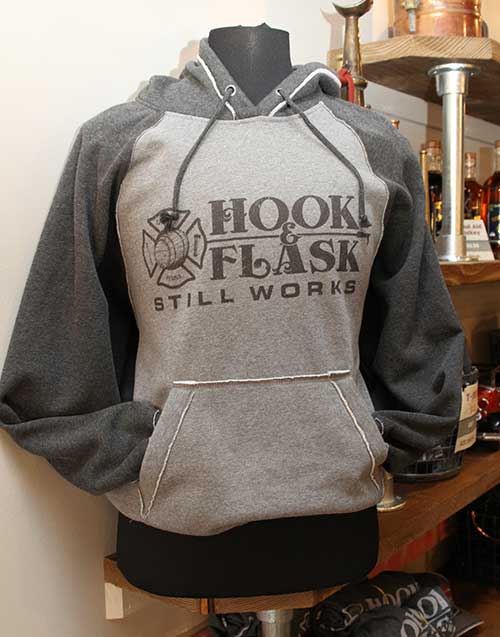 Hook & Flask Two-Tone Grey Soft Hoodie
Price:  $38.00
Sizes:  S-XXL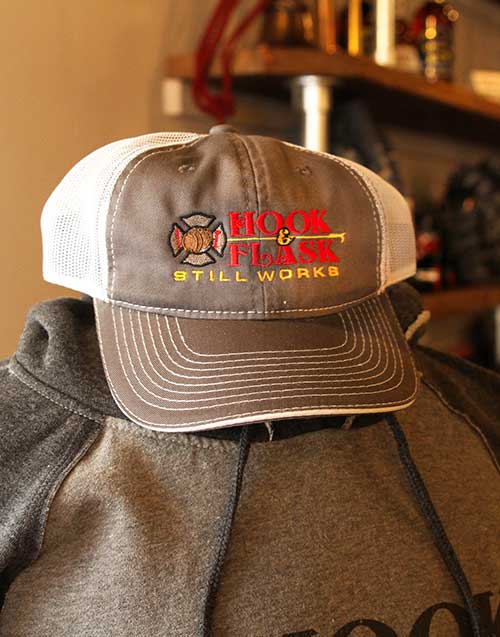 Hook & Flask Truckie Hat
Price:  $18.00